2023 hot sale black annealed small coil 3.5LBS banding wire for building
Product Detail
Product Tags
Small coil wire also called rebar tie Wire, can be supplied in coiled wire forms for the steel rebar
fixing and tying demands in concrete construction. Black annealed rebar tie wire is the best sell
material.


Wires Type:


 1.Galvanized wire




 2.Black annealed wire




 3.PVC coated wire




 4.Stainless steel wire,




 4.Cooper wire, brass wire.etc


 Package:3.5 lbs/coil, 20 coils/ctn, 48 ctns/pallet, 13 pallets/20GP container(Different package can
 do according to

customers' request)


 Application:


 1,The most popular use for PVC coated wire is in the construction of chain link fences for industrial 
security fences,

freeways and tennis courts.




 2,It is also used in other applications such as coat hangers and handles.




 3,PVC Coated Iron Wires are widely used in animal breeding, forestry protection, aquaculture, park
 or zoo fence and 

stadium.
The product uses high-quality galvanized wire as the raw material. After deep processing, the plastic 
and the galvanized iron wire are firmly combined. It has the characteristics of anti-aging, corrosion
 resistance, and anti-cracking. Variety and color can be customized according to user needs.

Production Process :


Steel rod coil -- Wire Drawing -- Wire Annealing--Rust Removing--Acid Washing-- Boiling-- Drying
-- Zinc Feeding-- Wire Coiling.
| | | | | |
| --- | --- | --- | --- | --- |
|  Wire Gauge |  Diameter(mm) |  Tensile Strength(kg/mm2) |  Zinc Coating |  Coil Weight(kg) |
| 6# | 4.60-4.95 | 40-70 | 30-260 | 300-800 |
| 7# | 4.25-4.60 | 40-70 | 30-260 | 300-800 |
| 8# | 3.90-4.25 | 40-70 | 30-260 | 300-800 |
| 9# | 3.65-3.90 | 40-70 | 30-260 | 300-800 |
| 9.5# | 3.49-3.65 | 40-70 | 30-260 | 300-800 |
| 10# | 3.14-3.32 | 40-70 | 30-260 | 300-800 |
| 10.5# | 3.14-3.32 | 40-70 | 30-260 | 300-800 |
| 11# | 2.96-3.14 | 40-70 | 30-260 | 300-800 |
| 11.5# | 2.84-2.96 | 40-70 | 30-260 | 300-800 |
| 12# | 2.70-2.84 | 40-70 | 30-260 | 300-800 |
| 12.5# | 2.50-2.70 | 40-65 | 30-260 | 300-800 |
| 13# | 2.32-2.50 | 40-70 | 30-260 | 300-800 |
| 13.5# | 2.18-2.32 | 40-70 | 30-260 | 300-800 |
| 14# | 2.03-2.18 | 40-70 | 30-260 | 300-800 |
| 14.5# | 1.90-2.03 | 40-70 | 30-200 | 300-800 |
| 15# | 1.76-1.90 | 40-70 | 30-200 | 300-800 |
| 16# | 1.61-1.70 | 40-60 | 20-60 | 300-800 |
| 16.5# | 1.52-1.61 | 40-60 | 20-60 | 300-800 |
| 17# | 1.43-1.52 | 40-60 | 20-55 | 200-350 |
| 17.5# | 1.30-1.43 | 40-55 | 20-45 | 200-350 |
| 18# | 1.19-1.30 | 40-55 | 20-45 | 25-350 |
| 18.5# | 1.11-1.19 | 40-55 | 20-45 | 25-350 |
| 19# | 1.02-1.11 | 40-55 | 20-45 | 25-350 |
| 19.5# | 0.93-1.02 | 35-55 | 20-45 | 25-350 |
| 20# | 0.84-0.93 | 35-55 | 20-45 | 25-350 |
| 21# | 0.76-0.84 | 35-55 | 20-40 | 25-350 |
| 22# | 0.67-0.76 | 35-55 | 20-40 | 25-350 |
| 23# | 0.62-0.67 | 35-55 | 20-40 | 25-350 |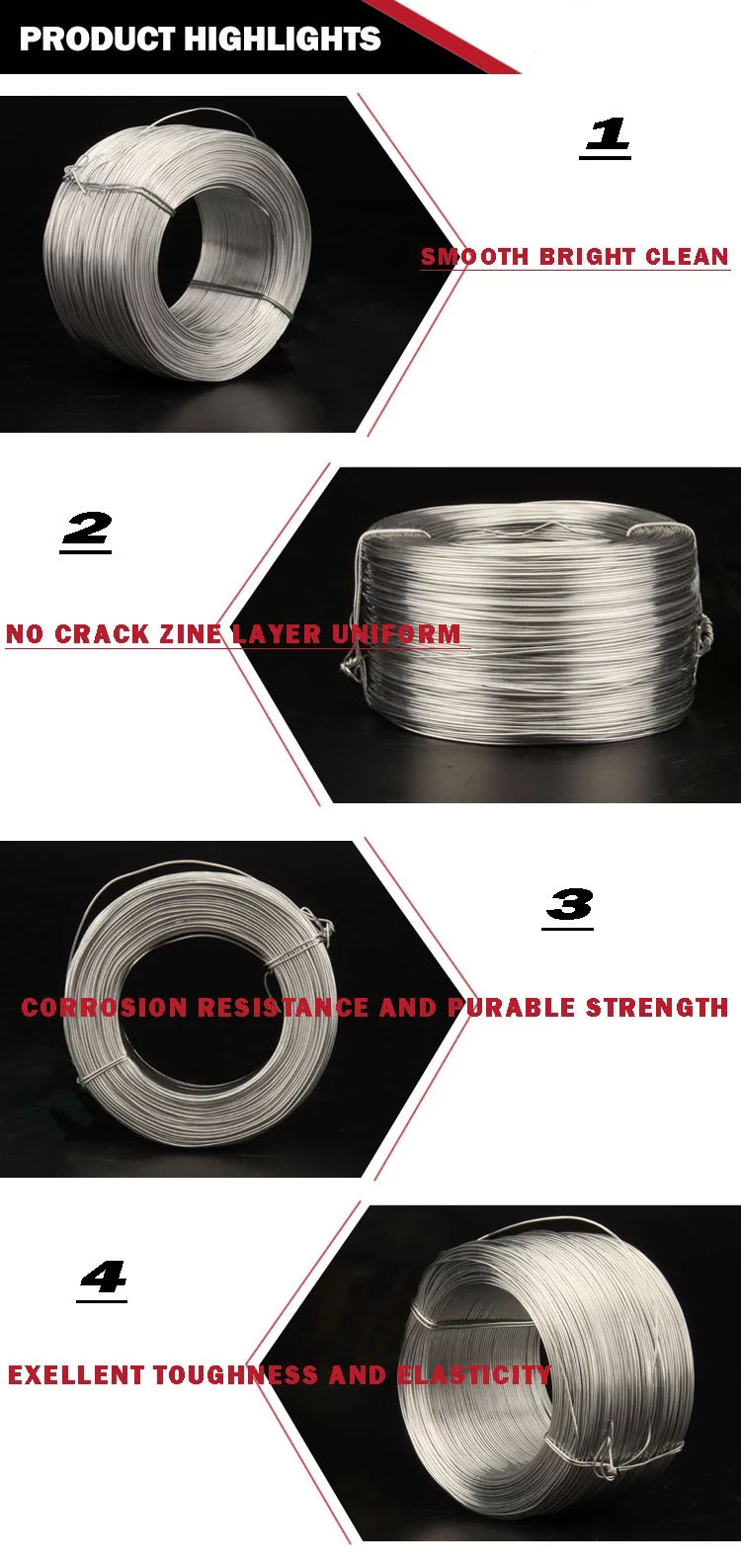 ---
Next:
Small spools Electric Galvanized Rebar Tying Wire Coil Spools For Rebar Tier Machine Used Tie Wire small spool wire
---
Send your message to us:
Write your message here and send it to us