Hot dip galvanized Razor Wire (Manufacturer) Concertina Wire/Razor barbed wire/Razor bladed wire
Product Detail
Product Tags
Razor barbed wire is also named concertina wire. It can be installed to achieve the result of 
frightening and stopping to the aggressive perimeter intruders, with piecing and cutting razor blades 
mounted at the top of the wall, also the special designs making climbing and touching extremely 
difficult.

Razor barbed wire fencing is usually made of galvanized steel blade or stainless steel blade. 
Twopieces of stainless steel razor wire or zinc-coated razor wire can be bounded together by clips to
make it stronger.The spiral intersecting 

barbed wire presents an intersecting shape after opening with
beautiful outlook and practical property 

he reason for surface treatment is to strengthen the 
anti-corrosion strength and prolong the service life.Galvanized wire as the name implies surface
treatment is galvanized, can be electric galvanized and hot galvanized;The surface treatment of 
PVC barbed wire is PVC plastic coated, and the inner barbed wire is black wire, electroplated wire 
and hot plated wire.

Aluminized roping rope is a new product that has just come into the market. Its
surface is covered with aluminum, also known as aluminum plating.We all know that aluminum is 
not rusted, so the surface of aluminum plating can greatly improve the anti-corrosion ability, make its life 
longer.

Installation steps


Method one: 1. Drill holes in the wall and fix the V-shaped bracket with expansion screws (install a
V-shaped bracket at intervals of about 3m) 2. Fix the iron wire to the V-shaped bracket, and pass
the iron wire from the middle of the blade barbed wire to support the blade barbed wire.


Method Two: 1. Drill holes in the side of the wall, with expansion screws with hooks (install 1 screw
at intervals of about 1m) 2. The iron wire is fixed to the screw, and the wire is passed through the 
middle of the blade barbed wire and wound on each screw a few times and hung on the screw


Assortments:


Hot dipped galvanized razor wire


Stainless steel razor wire


Patterns:


Single coil razor wire


Concertina razor wir


Flat type razor wire


Application:


Razor barbed wire is widely used by in military field, prisons, detention houses, government buildings
and other 

national security facilities; It is also used as fence for cottage and society fence, and other
private buildings
Product Description
Blade

          specification

Blade

         thickness

Cor.

  Wire diameter

Blade

     length

Blade

    width

Blade

      space

BTO-10

0.5±0.05

2.5±0.1

10±1

13±1

26±1

BTO-12

0.5±0.05

2.5±0.1

12±1

15±1

26±1

BTO-18

0.5±0.05

2.5±0.1

18±1

15±1

33±1

BTO-22

0.5±0.05

2.5±0.1

22±1

15±1

34±1

BTO-28

0.5±0.05

2.5

28

15

45±1

BTO-30

0.5±0.05

2.5

30

18

45±1

CBT-60

0.6±0.05

2.5±0.1

60±2

32±1

100±2

CBT-65

0.6±0.05

2.5±0.1

65±2

21±1

100±2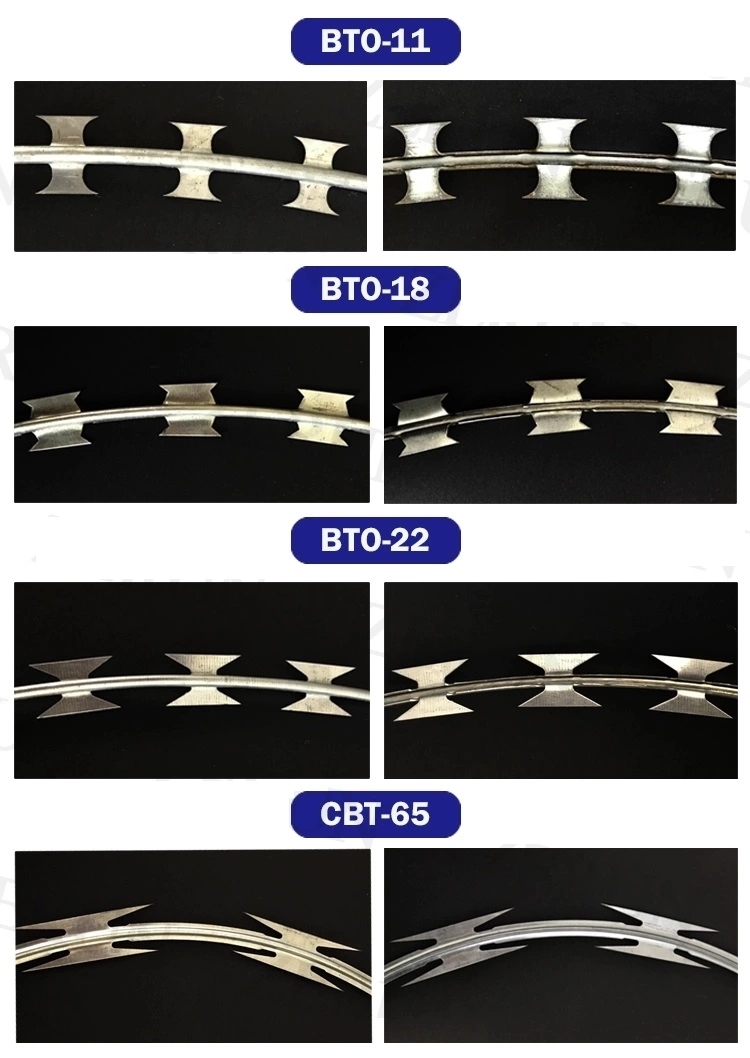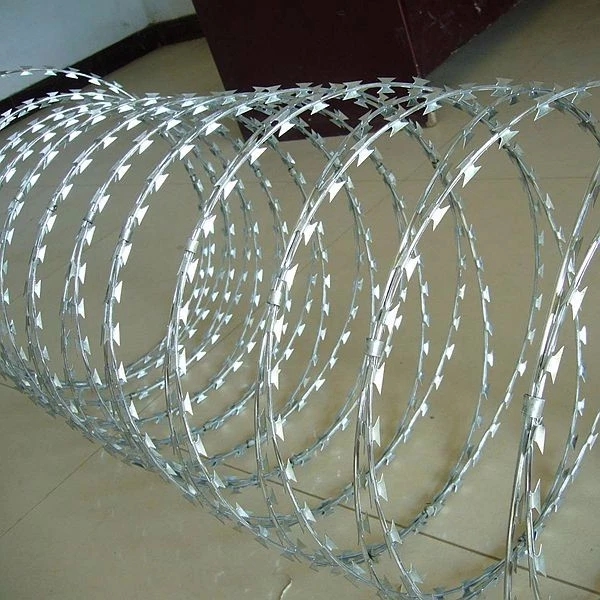 Concertina Cross Razor Wire


Concertina Cross razor wire is crossed razor wire. Two pieces of stainless steel razor wire or 
Zinc-coated Wire are bound together by clips to make it stronger.The spiral intersecting barbed wire
 presents an intersecting shape after opening with beautiful feature and practicality.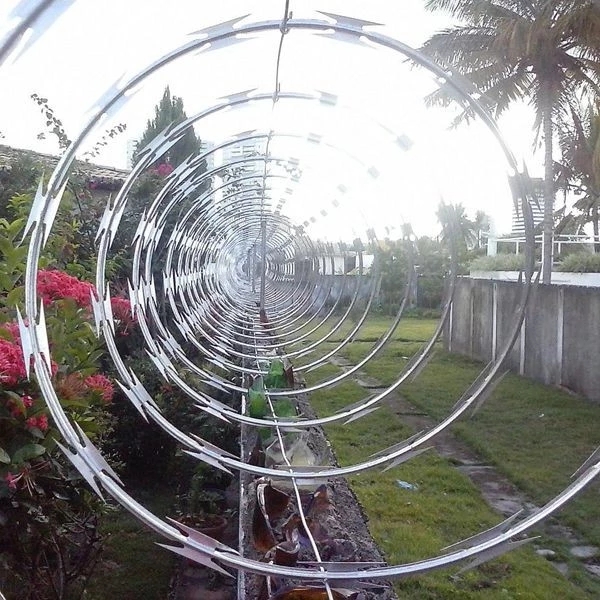 Concerntina Single Razor Wire


Concertina Single Coiling razor wire is installed without clips; it runs in natural loops on walls or 
fencings. Single coiling razor wire is costless and can be easily installed.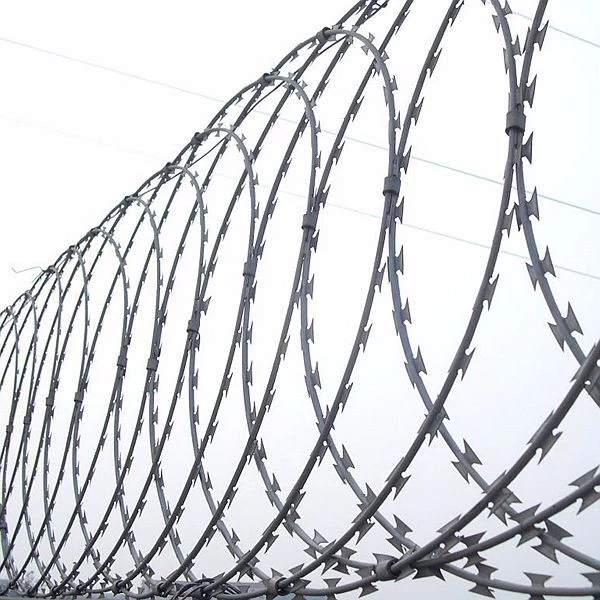 Flat Razor Wire
Flat razor barbed wire is a new type of razor barbed wire. We presse the single loop razor barbed wire into flat, or press two loops into flat then expand them across. We usually use it together with beenline razor barbed wire to build a defencing wall, or use it alone as a fence.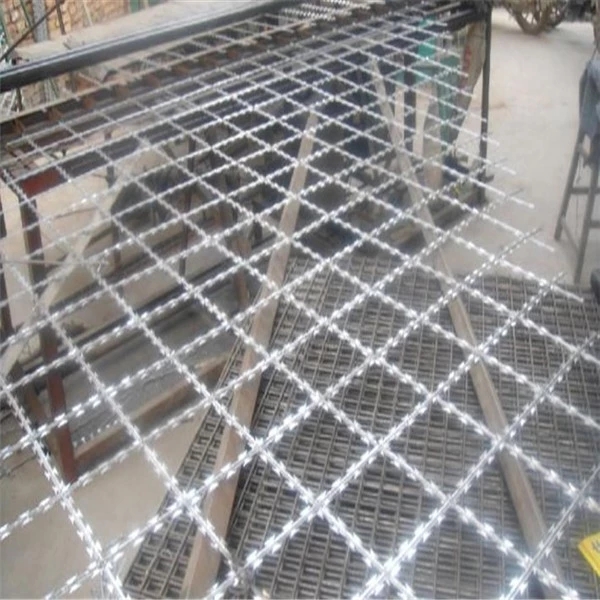 Welded Razor Wire Mesh


Welded razor mesh is a multi-functional, high security mesh fencing made of straight-blade netting
 welded together, packaging into a roll form for transport. Razor wire mesh is used in operations to
 pave the field after the installation of a blade barrier. This product can protect you and your property
 and ensures the safety of the protective barriers.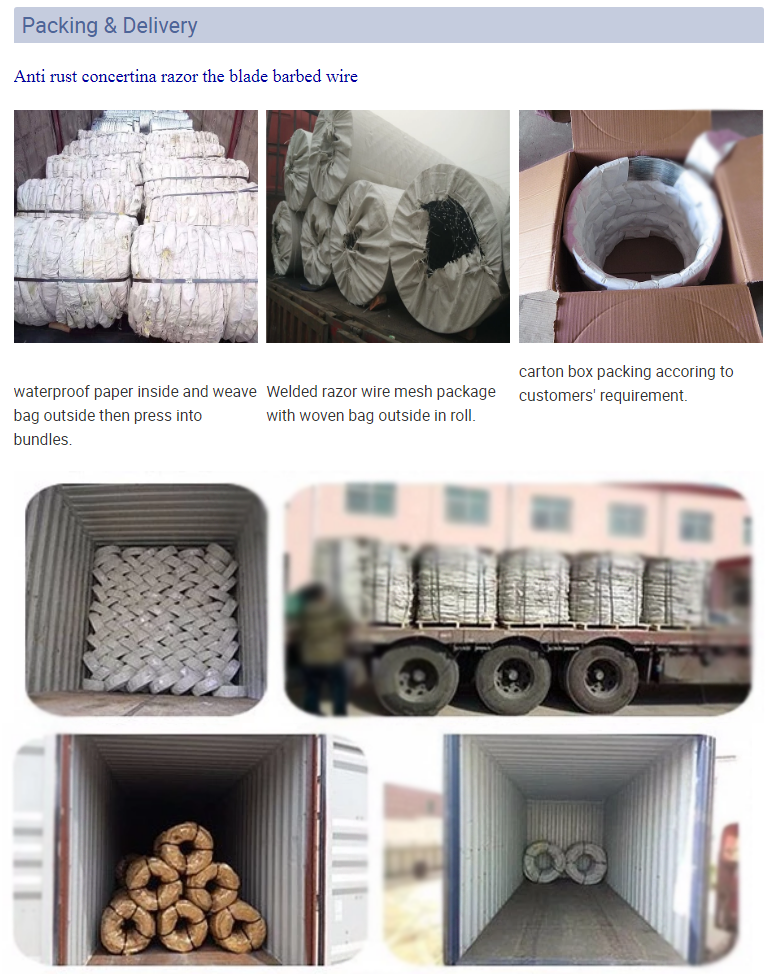 packing: waterproof  paper inside and weave bag outside then press into bundles.
welded razor wire mesh package with woven bag outside in roll
carton box packing accoring to customers' requirement.
---
---
Send your message to us:
Write your message here and send it to us