Wholesale 6ft Black PVC Coated Chain Link Fence
Product Detail
Product Tags
Material: Galvanized wire, pvc coated wire.
Usage:  Used as fencing for sports ground,river banks,construction,residence and animal fencing
Metal Chain Link Fence also called Diamond Fence, It mainly uses the special effect of the air permeability
of the hook net, which is widely used in the protection of the mountain and is used to fix the rock. At the 
same time, it uses the green grass to spray to achieve the effect of its own solidification in the later stage.
It is a perfect combination of afforestation and protection.
Metal Chain Link Fence is widely used in roads, railways, highways and other guardrail network facilities. 
It is also used for interior decoration, raising chickens, ducks, geese, rabbits and zoo enclosures. Protective nets
for mechanical equipment and conveying nets for mechanical equipment. Sports place purse Seine, road 
green belt protection net. The hook net in the production of a box - like container, filled with stone cages, 
become a stone cage net. It is also used to protect and support seawalls, hillsides, roads, Bridges, reservoirs
and other 
civil works. It is a good material for flood control and flood fighting. It can also be used in handicraft
manufacturing. Storage, tool room refrigeration, protective reinforcement, Marine fishing fence and construction
site fence, river, slope fixed soil (rock), residential safety protection, etc.


Black vinyl coated chain link fence is getting popular for its attractive appearance and better performance in resisting corrosion 
than galvanized chain link fence whether GAW or GBW. This color coated chain link fabric comes with diverse gauges, mesh 
opening sizes, coatings and heights. It can be found in any place including schools, houses, parks, sports, commercial, industria
and landscape.

Posts, gates, rails and hardware for installation are black vinyl-coated to match with the
fabric. They should be ordered separately.


PVC Coated Chain Link Mesh Fence Decorative Chain Link Fence Black Chain Link Fenc


PVC coated chain link mesh fence also called vinyl coated or plastic coated chain link mesh is woven accurately
with PVC wire in green or black color. Add color and style to your fence with color coordinated, vinyl coated 
chain wire fence. The heavy fence coated with fused and bonded vinyl is guaranteed for years of trouble-free use.
Surface treatment:


1.Hot dipped galvanized :


The fence has standard galvanized anti-corrosion, in galvanization process a layer of zinc is formed 


on the surface of steel. This coating protects steels against atmospheric corrosion.


Galvanized and PVC caoated:


Galvanized panel fencing systems may be optionally powder coated in a color of your choice. 


Powder coating enhances the anti-corrosion by preventing the oxidation of zinc, owing to which our 


fencing systems preserve their aesthetic qualities from even longer.
Mesh Opening

Wire Thickness

Height

Length

inch

mm

mm

cm

m

3/4

20 X 20

1.2-2.1

50cm-500cm

10m-30m

1

25 X 25

1.2-2.1

1-1/4

30 X 30

1.2-3.4

1-1/2

40 X 40

1.2-3.4

2

50 X 50

1.6-3.4

2-3/8

60 X 60

1.6-3.4

3

75 X 75

2.1-3.4

4

100 X 100

2.1-4.0

Other sizes could be customized according to your needs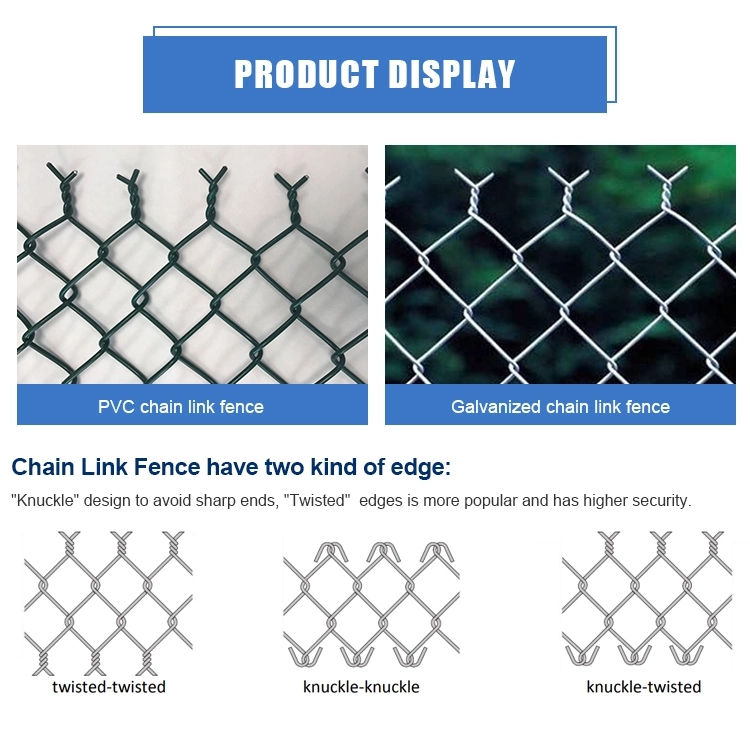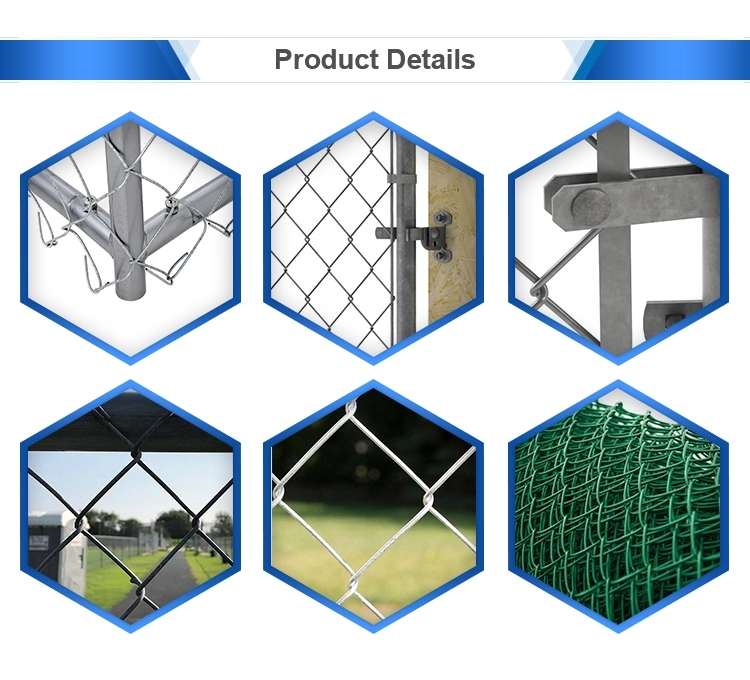 ---
Previous:
Wholesale yellow steel Nails Dome Head Used for Artitectural Door Furniture Cabinet and Customization Hardware with Good Price
---
Send your message to us:
Write your message here and send it to us