Diamond Point Ring Shank Coil Roofing Nail For Pallet Nails From China
Product Detail
Product Tags
| | |
| --- | --- |
| Material | Q23 |
| Diameter | 1.95~4.6mm ( 0.077"~0.181" ) |
| Length | 19mm ~180mm( 3/4" ~ 7′) |
| Shank | Smooth, Ring, Screw |
| Head type | Flat / Jolt / Umbrella / Casing / Oval |
| Point | No Point / Diamond / Blunt Diamond |
| Finishing | Bright / EG / MG / HDG |
| Coating | Yellow, Red, Blue,Zinc |
| Angel | 15° |
| Coil | 150~400 Pcs/Coil |
 Package: 
1.Bulk carton box
2.Round pail
3.Wooden frame
4.Combination plastic box
5.Small poly bag(KL,KLS)
6.Small box(NL,KY,KU,KK,DH)
Supply Ability: 50 Twenty-Foot Container per Month


* For use in 15 degree flat coil framing nailers


* Wire collated ring shank


* Hot dip galvanized coating resists corrosion and rust. For interior and exterior use. Rated for use
 in treated lumber


* Full round head


* New and improved packaging helps protect product during shipment
Usage:

wooden packaging box, wooden pallet manufacturing, elevator industry, electrical equipment
 industry, wooden furniture, wooden frame house fence, etc.


FEATURES:


1.Be suitable for mechanical nailing and can be installed on the nailing machine for continuous nailing. 


2.Reduce physical labor and improve productivity.


3.Be especially suitable for the use in construction, decoration, furniture, woodwork, packaging and 
other industries.


Coil nail is assembled together in coil by steel wire, hence the name wire collated nail. Main types


include smooth shank nail, ring shank nail and screw nail. The wire-collated coiled nail is compatible 


with pneumatic wire coil framing nailers. Main application fields include binding of pallet & crate, 


fencing, garden furniture and external cladding fixation, etc.coil nail is shoted by nail gun(coil nailer)


continousy.The advantages is to reduce manual labor and increase productivity.It is widely used,


especially suitable for construction,decoration,furniture,wood packing ,rutomotice and other industries.
Item 

             Diameter(mm)

        Length(mm)   

       Head Diameter(mm)

       COIL      NAIL   

2.05-2.15

25-27

4.8-5.0

2.05-2.15

32-40

4.8-5.0

2.05-2.15

45-55

4.8-5.0

2.20-2.30

38-45

5.5-5.7

2.20-2.30

50-55

5.5-5.7

2.35-2.45

40-50

6.3-6.5

2.35-2.45

55-60

6.3-6.5

2.35-2.45

63-70

6.3-6.5

2.65-2.95

57-65

6.5-6.8

2.75-3.10

70-90

6.5-6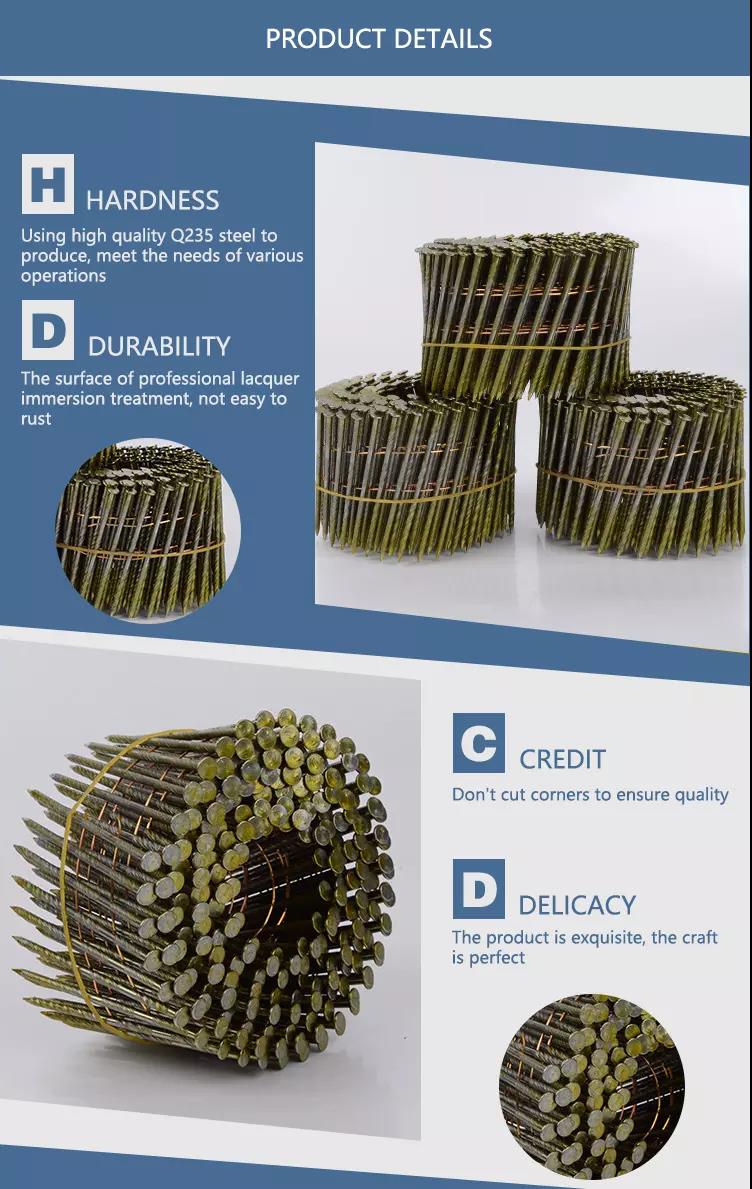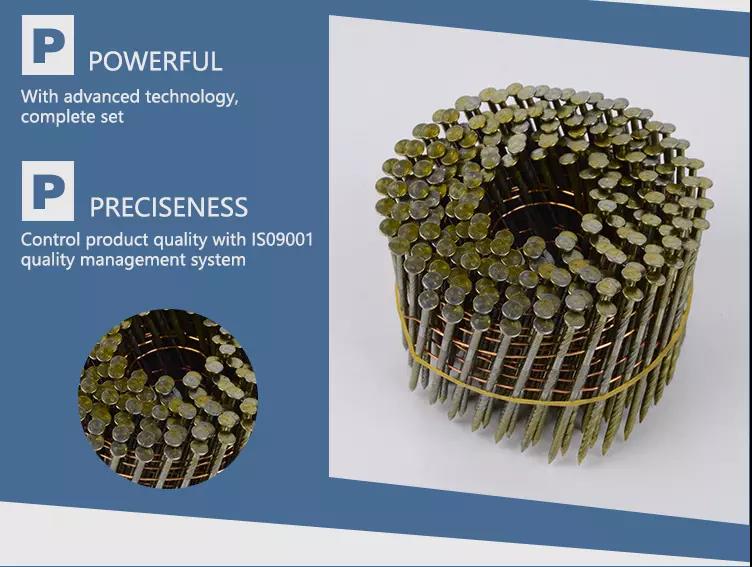 Hardness: using high quality Q235 steel to produce,meet the needs of various operations
Durability: the surface of professional lacquer immersion treatment,not easy to rust
Credit: don't cut corners to ensure quality
Delicacy: the product is exquisite,the craft is perfect
Powerful: with advanced technology complete set
Preciseness: control product quality with ISO9001 quality management system.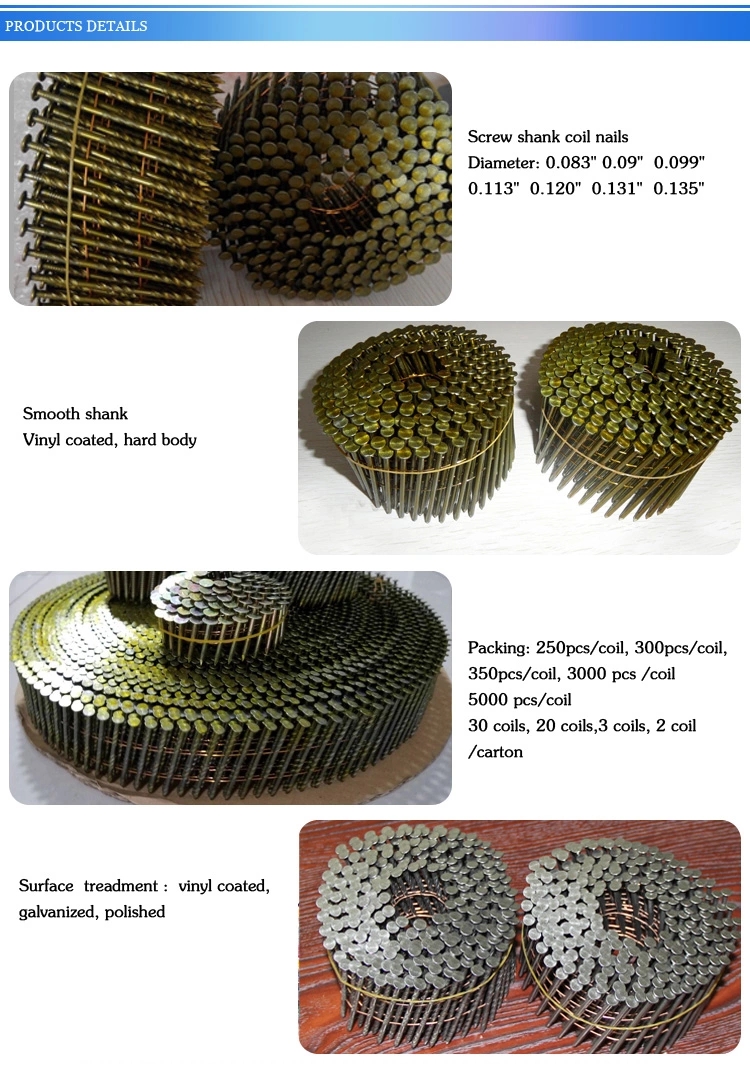 screw shank coil nails: diameter:0.083 '0.09'0.099'0.113'0.120'0.131'0.135′
smooth shank: cinyl coated hard body
packing:250pcs/roll.300pcs/roll 350pcs/roll,3000pcs/roll
30coils,20coils,3coils,2coil/carton
surface treatment:vinyl coated galvanized poloshed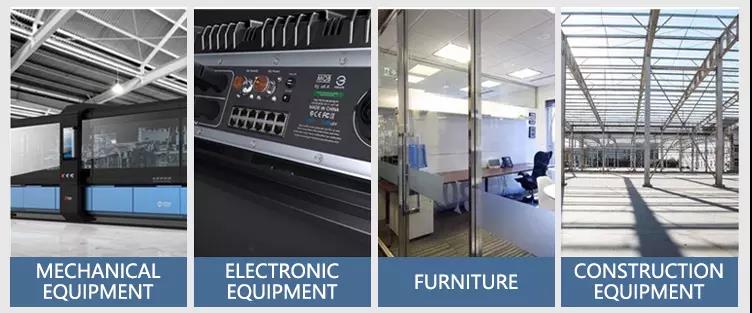 APPLICATIONS
mechanical equipment/electronic equipmetn/furniture/construction equipment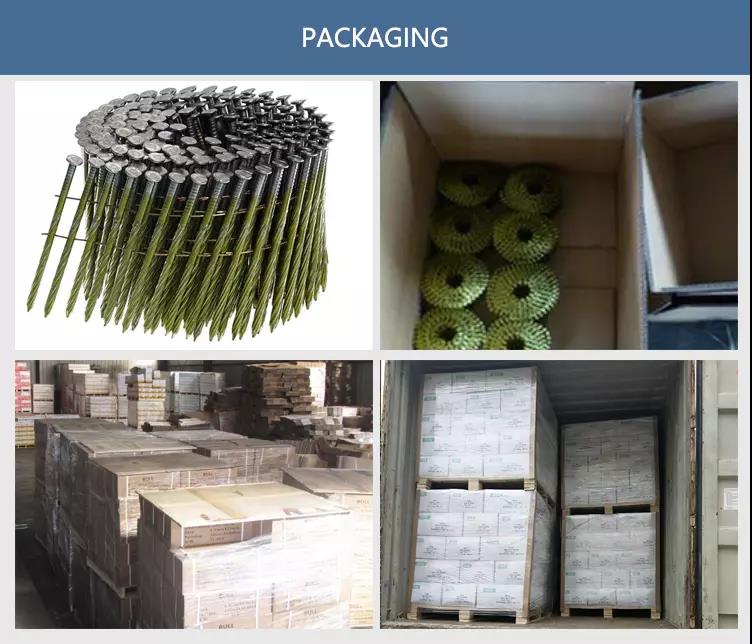 ---
Next:
1 kg per box 25kgs per carton bright polished iron wire nails price per ton common nail to kuwait
---
Send your message to us:
Write your message here and send it to us
Products categories