High Security PVC coated galvanized cheap chain link fence with razor wire on sale
Product Detail
Product Tags
Material: Galvanized wire, pvc coated wire.
Usage:  Used as fencing for sports ground,river banks,construction,residence and animal 
fencing


Chain link fence (also referred to as wire netting, wire mesh fence, chain-wire fence, cyclone fence, 
hurricane fence, or 

diamond-mesh fence) is a type of woven fence usually made from galvanized or 
PVC-coated steel wire. The wires run 

vertically and are bent into a zig-zag pattern so that each "zig"
 hooks with the wire immediately on one side and each "zag" 

with the wire immediately on the other. 
This forms the characteristic diamond pattern seen in this type of fence.

Chain Link Fence, as a 
versatile Fence, using the woven steel wire to make the panel, it is widely used in everywhere.


Due to the different applications, it is available in various wire gauges and mesh sizes. Chain Link 
Fence have two kind of


edge: knuckled edges and twist edges. The Chain Link Fence with twist edges is more popular
 and has higher security.


Surface treatment:


1.Hot dipped galvanized :


The fence has standard galvanized anti-corrosion, in galvanization process a layer of zinc is formed 
on the surface of 

steel. This coating protects steels against atmospheric corrosion.


2.Galvanized and PVC caoated:


Galvanized panel fencing systems may be optionally powder coated in a color of your choice. 
Powder coating enhances 

the anti-corrosion by preventing the oxidation of zinc, owing to which our 
fencing systems preserve their aesthetic 

qualities from even longer.
Mesh Opening

Wire Thickness

Height

Length

inch

mm

mm

cm

m

3/4

20 X 20

1.2-2.1

50cm-500cm

10m-30m

1

25 X 25

1.2-2.1

1-1/4

30 X 30

1.2-3.4

1-1/2

40 X 40

1.2-3.4

2

50 X 50

1.6-3.4

2-3/8

60 X 60

1.6-3.4

3

75 X 75

2.1-3.4

4

100 X 100

2.1-4.0

Other sizes could be customized according to your needs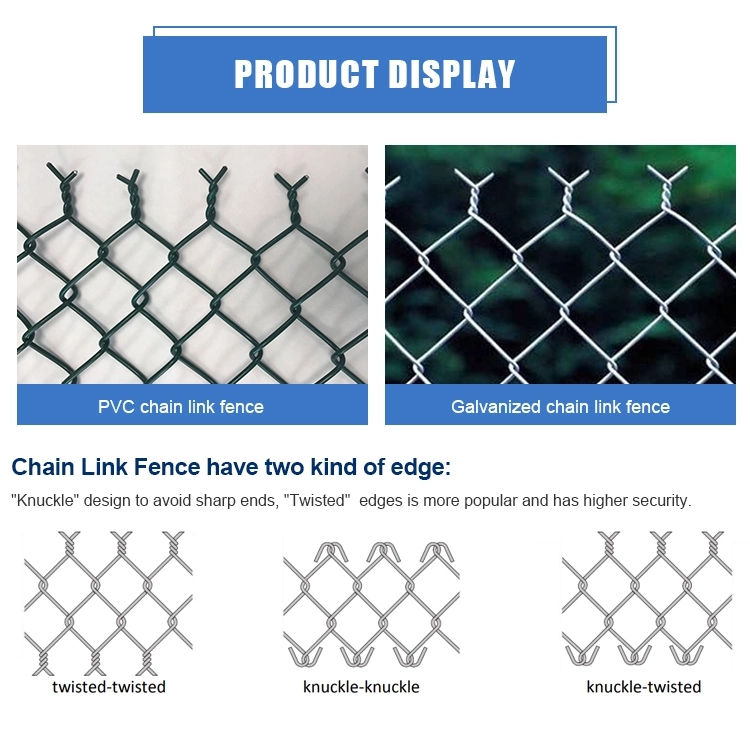 ---
Next:
cheap Hexagonal Chicken Wire Netting/poultry Hexagonal Wire Mesh 1/5 Galvanized Hexagonal Wire Mesh
---
Send your message to us:
Write your message here and send it to us