Black Steel Nail
Product Detail
Product Tags
High-strength Black Concrete Nails/ Steel Nails also called high quality furniture 

nail, black smooth
shank nail,stainless steel concrete nail.Black  steel nail is nail made of carbon steel. The texture of
the steel nail is relatively hard, thick , and the ability to penetrate is very strong. When encountering
an interface that is difficult to nail with ordinary round nail, the steel nail can be easily nailed in, 
which is generally suitable for decoration and decoration, connection of hard wood and light wood
keel. Suitable for hard wood, brick walls and cement mortar components. Widely used in water and 
electricity installation and decoration of civil and military buildings.

It is harder, the shank is short and 
thick commonly and it has excellent piecing and fixingstrength. With these features, concrete nail
make ideal nail and fasteners for firm andstrong sites.Nail TypeBlackish,E.G.polised nail and 
Hot Dip Galvanized nail.


Features:Excellent anti-bending


Anti-Crack


Safety uses due to the prcessing of advanced heat treatment technology


Shank Type: Twisted Shank(Sprial),Smooth Shank


mooth Shank Black Concrete Nails
Material:Black steel Q195
Length:20mm-125mm
Wire dia:2mm-4.2mm
Feature:Flat head,Twisted Shank,Diamond Point
Finish:Galvanized nails(E.G. and H.D.G.)
Type:

Blackish,E.G.polised nail and Hot Dip Galvanized nail


Shank Type:


   Twisted Shank(Sprial)


   Smooth Shank


Package:


1) In small box of 35pcs,40pcs,45pcs,50pcs,70pcs,80pcs,100 pcs , 10 such boxes in a medium box ,
 then several of 

which in a carton


2) In small box of 1 kg each , 20 boxes in a carton


3) Loose in carton of 20 / 25kgs net


4)according to customer requirements


usage :mainly for building construction,packing and furniture .
| | | |
| --- | --- | --- |
| Gauge and size(A.S.W.G) |                   Diam of Head inch              . |           Approx.Numer per Ib |
| #91/2 | 3/8 | 335 |
| 5/8 | 3/8 | 279 |
| 3/4 | 3/8 | 248 |
| 1 | 3/8 | 186 |
| 11/4 | 3/8 | 152 |
| 11/2 | 3/8 | 128 |
| 13/4 | 3/8 | 112 |
| 2 | 3/8 | 98 |
| 21/2 | 3/8 | 78 |
| 3 | 3/8 | 70 |
| #823/4 | 13/32 | 56 |
| 3 | 13/32 | 52 |
| #731/2 | 7/16 | 38 |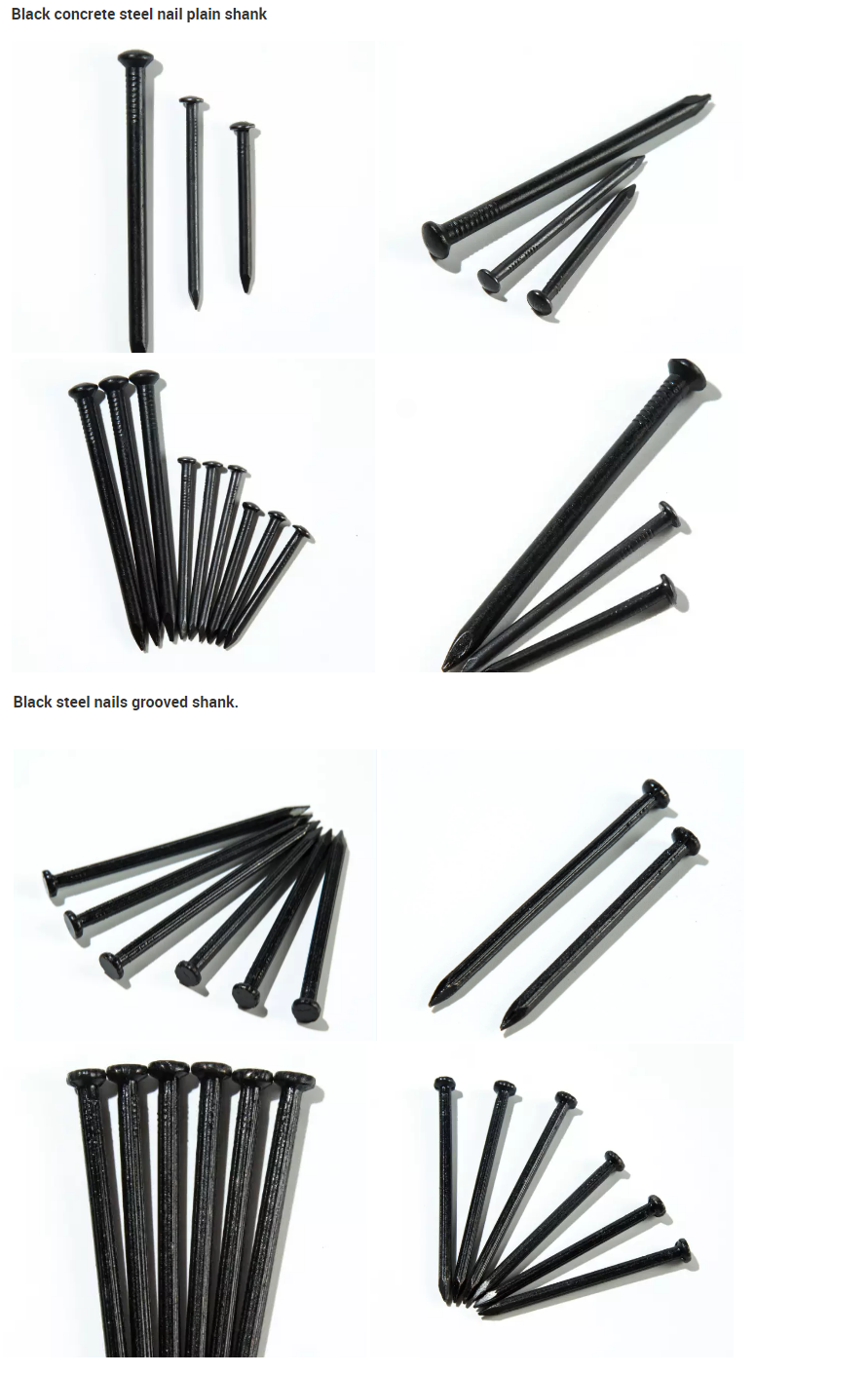 ---
Previous:
Machete M2002
Next:
Coil Nail
---
Send your message to us:
Write your message here and send it to us